Career and Technical Education
Career and Technical Education
The program in Career and Technical Education offers degrees for the preparation of teachers, supervisors, and administrators in a range of related fields, generally found in secondary education. The Bachelor of Science in Education is divided into three majors. The Master of Education has options for licensed teachers seeking a graduate degree and for students seeking licensure.
The CTE program maintains a website of related information of interest to its students and is on Facebook.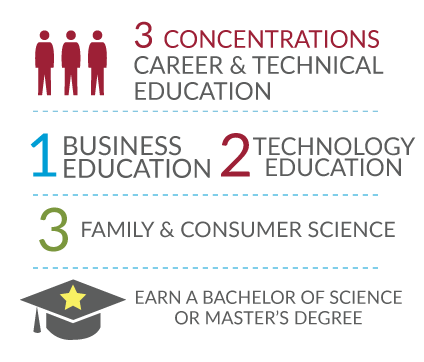 Bachelor of Science in Education in Career and Technical Education
Business Education
The B.S.E. business education program in the College of Education and Health Professions is designed to provide on-campus students a knowledge base that will prepare them to possess a broad background in business subjects and pedagogy.
Family and Consumer Sciences Education
On-campus B.S.E. students who choose Family and Consumer Sciences Education are committed to improving the well-being of individuals and families. They want to help individuals develop the ability to balance the challenges of day-to-day living, marriage, children and careers.
Technology Education
A B.S.E. degree with a concentration in Technology Education is a licensure program that prepares one to teach technology, pre-engineering, or other technical subject matter at the high school, middle school or community college.
Master of Education (M.Ed.) in Career and Technical Education
This Master of Education degree has two options. The first is for holders of bachelor's degree in a related field and interested in obtaining Arkansas teacher licensure. Option 2 is for licensed teachers interested in returning to earn a master's and gain advanced knowledge.