M.Ed. in Special Education
M.Ed. in Special Education
The coursework for the Master of Education in Special Education program prepares teachers to work with students with disabilities from kindergarten through grade 12 by building competencies and knowledge expected within the field of Special Education.
Two licensure tracks are available:
M.Ed. leading to initial licensure
M.Ed. leading to endorsement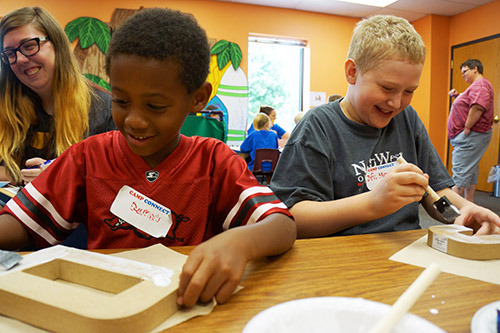 It is an online program, allowing students the opportunity to pursue educational goals at a time and place that fits their individual schedules. The practicum courses take place in public schools across the United States. All Special Education graduate certificates and other licensure endorsements offered by the Special Education program can be embedded into the Special Education master's degree program.
The College of Education and Health Professions provides the coursework needed for successful teacher candidates to submit a request for the special education license or endorsement from the Arkansas Department of Education. Prospective students not residing in Arkansas must check their own state's requirements and reciprocity agreements. Nationally recognized faculty provide the instruction for the program.
The master's degree with Initial License in Special Education is for those graduate students who have a bachelors' degree in a field other than education and do not hold a current license in education.
The master's degree with Endorsement in Special Education is for those graduate students who hold currently a license to teach in a field other than special education.
The master's degree without license is for those graduate students who do not wish to pursue a license or endorsement in special education. Program faculty must approve this program of study to ensure that the student is well aware of the implications for their career path.
Admission Requirements
Prospective students apply through the Graduate School application portal. In addition to completing the online form, applicants are to upload via the portal documents such as resume, letters of reference, statement of purpose and documentation of grade-point averages or certain test scores, as detailed in the program's Course Catalog requirements page.