ESL Symposium
Toward Flexible Teaching and Learning
Research-based Practices for Supporting Emergent Bilingual Students in Web-based Contexts
University of Arkansas 13th Annual ESL Symposium
Presented by Alissa Blair and Renee Speight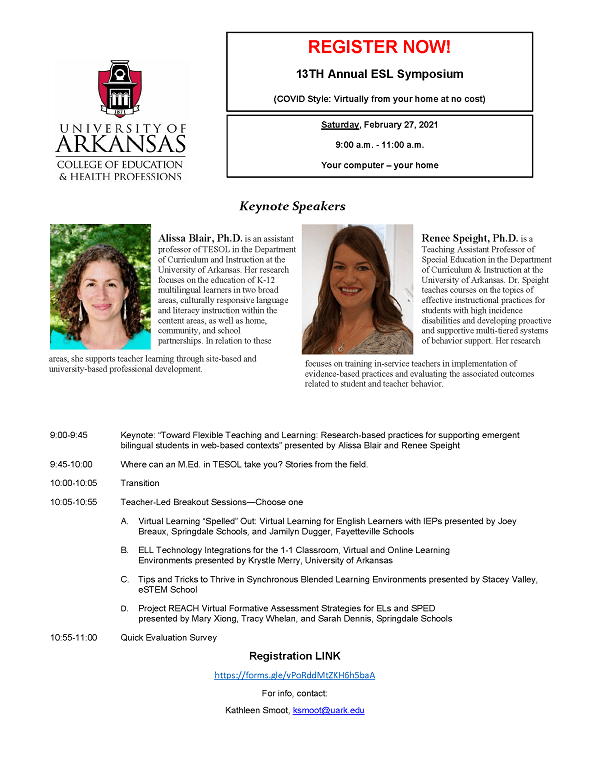 Date: Saturday, Feb. 27, 2021
Due to COVID-19, the ESL Symposium will be offered free and delivered online via Zoom. All participants must register.
Online registration deadline is Wednesday, Feb. 24. If you would like to register for the symposium after Feb. 24, please email the registrar.
The flyer for the 13th annual symposium can be downloaded (PDF).
The English as a Second Language Symposium is sponsored by the U of A College of Education and Health Professions.
Featured Speakers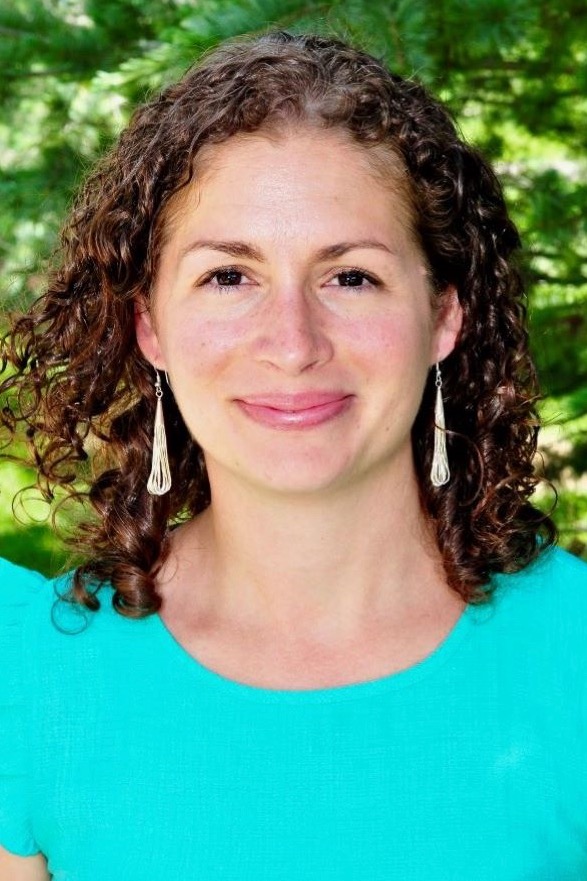 Alissa Blair, Ph.D., is an assistant professor of Teaching English to Speakers of Other Languages in the U of A Department of Curriculum and Instruction. Her research focuses on the education of K-12 multilingual learners in two broad areas, culturally responsive language and literacy instruction within the content areas, as well as home, community, and school partnerships. In relation to these areas, Dr. Blair supports teacher learning through site-based and university-based professional development.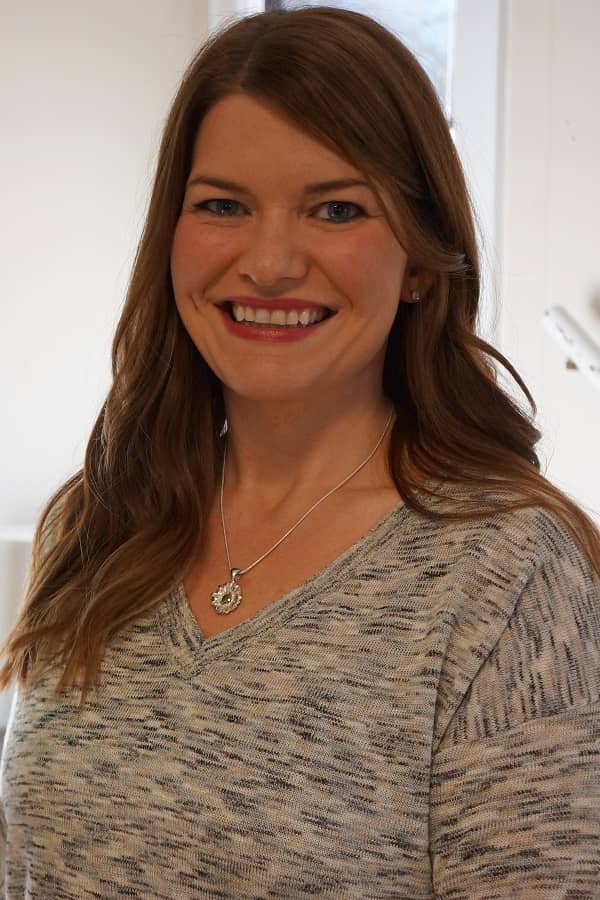 Renee Speight, Ph.D., is a teaching assistant professor of Special Education in the U of A Curriculum and Instruction Department. Dr. Speight teaches courses on the topics of effective instructional practices for students with high incidence disabilities and developing proactive and supportive multi-tiered systems of behavior support. Her research focuses on training in-service teachers in implementation of evidence-based practices and evaluating the associated outcomes related to student and teacher behavior.
Participants
The symposium is appropriate for educators at all levels who work with ELs (English Learners) whether as a classroom teacher, ESL specialist or administrator.
Schedule
9-9:45 a.m. — Keynote: "Toward Flexible Teaching and Learning: Research-based practices for supporting emergent bilingual students in web-based contexts" presented by Drs. Blair and Speight
9:45-10 — Where can an M.Ed. in TESOL take you? Stories from the field.
10-10:05 — Transition
10:05-10:55 — Teacher-Led Breakout Sessions
Choose one

Virtual Learning "Spelled" Out: Virtual Learning for English Learners with IEPs presented by Joey Breaux, Springdale Schools, and Jamilyn Dugger, Fayetteville Schools
ELL Technology Integrations for the 1-1 Classroom, Virtual and Online Learning Environments presented by Krystle Merry, University of Arkansas
Tips and Tricks to Thrive in Synchronous Blended Learning Environments presented by Stacey Valley, eSTEM School
Project REACH Virtual Formative Assessment Strategies for ELs and SPED presented by Mary Xiong, Tracy Whelan and Sarah Dennis, Springdale Schools

10:55-11:00 — Quick Evaluation Survey
For more information on the 13th annual ESL Symposium, please contact either Diana Gonzales Worthen, Ph.D., or Janet Penner-Williams, Ed.D.
Continuing Education Units
Teachers will receive a certificate for 2 hours of Professional Development and DESE Assurance Number upon completion of a survey.